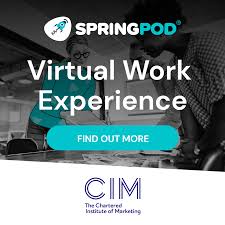 VIRTUAL WORK EXPERIENCE OPPORTUNITIES
If you were thinking about having some work experience but wondering how this can be completed during these strange times then please have a look at the information below, as this may help you with some ideas and possibly even some virtual work experience opportunities.
Here's a round up of some of the most notable (virtual) work experience opportunities accepting applications over Christmas!
The idea is that you (as students) can lay the foundations now, by applying over the holidays – allowing you to go into the new year with opportunities already secured. This will ensure that, even with all of the limitations in place right now, you are still taking steps to strengthen your career prospects and lay a rock solid foundation, ready for when the current situation finally does pass.
Work experience can often be where you first interact with the areas you end up building your career around (I know that was the case for me). That's why I think the following virtual work experience opportunities, all of which are online, could be really powerful, and make the best of a bad situation. They can be completed at times that suit you and provide a certificate directly from the employer upon their completion (invaluable for CVs, cover letters, personal statements etc.)
Please see the list below, and feel free to start applying if any take your fancy:
Chartered Institute of Maketing – Marketing Virtual Work Experience February 2021 https://www.springpod.co.uk/marketing-virtual-work-experience/
Vodafone – Innovators Virtual Work Experience https://www.springpod.co.uk/vodafone-virtual-work-experience/
Law Virtual Work Experience https://www.springpod.co.uk/law-virtual-work-experience/
Teaching Virtual Work Experience https://www.springpod.co.uk/teaching-virtual-work-experience/
Nestlé – Employability Skills Programme https://www.springpod.co.uk/nestle-employability-skills-programme/
Finance Virtual Work Experience https://www.springpod.co.uk/finance-virtual-work-experience/
BT – Insight Day https://www.springpod.co.uk/bt-insight-day/
Journalism Virtual Work Experience https://www.springpod.co.uk/journalism-virtual-work-experience/